Customer Experience and Frequently Asked Questions
Our American-made Denim Jeans are designed to be the most comfortable jeans you have ever worn. These jeans are true, American sizing, so you should be able to order your typical jeans size. If you are unsure or in-between, we would recommend sizing up.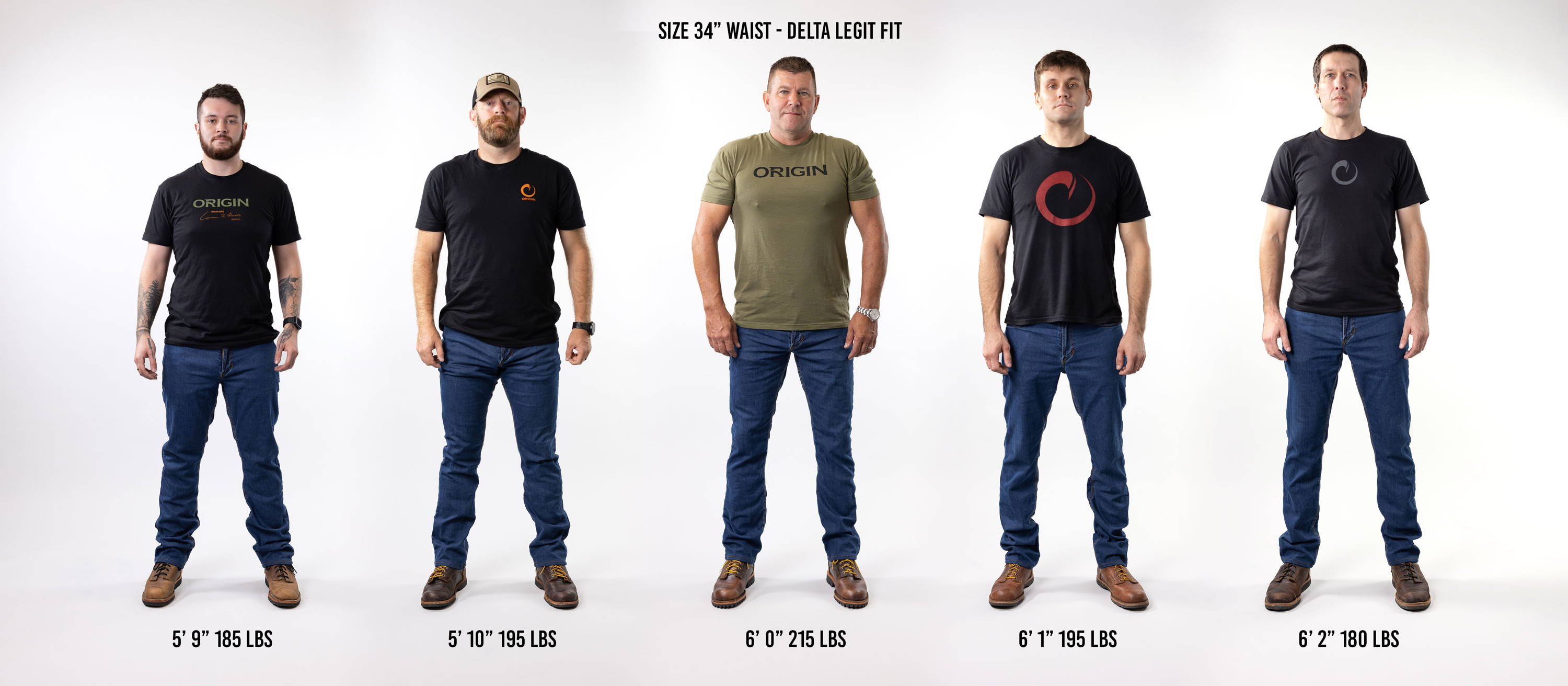 Our handmade American HERITAGE Boots fit true to size, but some have told us they find them to be a bit more narrow than other boots they have had before. In order to ensure you have the right size, we suggest measuring your foot against our BOOT SIZE GUIDE that you can download and print out. Be sure to confirm your size guide is scaled accurately with the 7" measuring guide. If this does not measure to 7", your chart is not printed to the correct size and will not recommend the correct size boot for you. 
IMPORTANT: This boot-size guide was created for our HERITAGE boots, not our BUILT boots. Our footwear experts are currently working on standardizing the sizing of both boots, creating the perfect boot last. For the time being, our BUILT boots will fit slightly larger than our HERITAGE boots.
Along with being a soft and comfortable fit, our t-shirts are a bit on the athletic side. You should be able to order your typical shirt size. If you are unsure or in-between sizes, we would recommend sizing up.
The 100 Kilo Hoodie Pull Over and Full-Zip tend to have a more atheletic fit to taper your body VS our Heavy Hoodie which is designed to have a roomier feel to trap your body heat for those cold nights and early mornings. THIS LINK should help you find the right hoodie and size for you.
STANDARD GI JACKET
Our American Pearl Weave Gis and Atomic Twill Gis are designed to follow standard Gi sizing. Please use the sizing chart below to help find the right size for your Cowboy Cut Gi Jacket. We would also recommend ordering CLASSIC PANTS based on this standard gi sizing chart.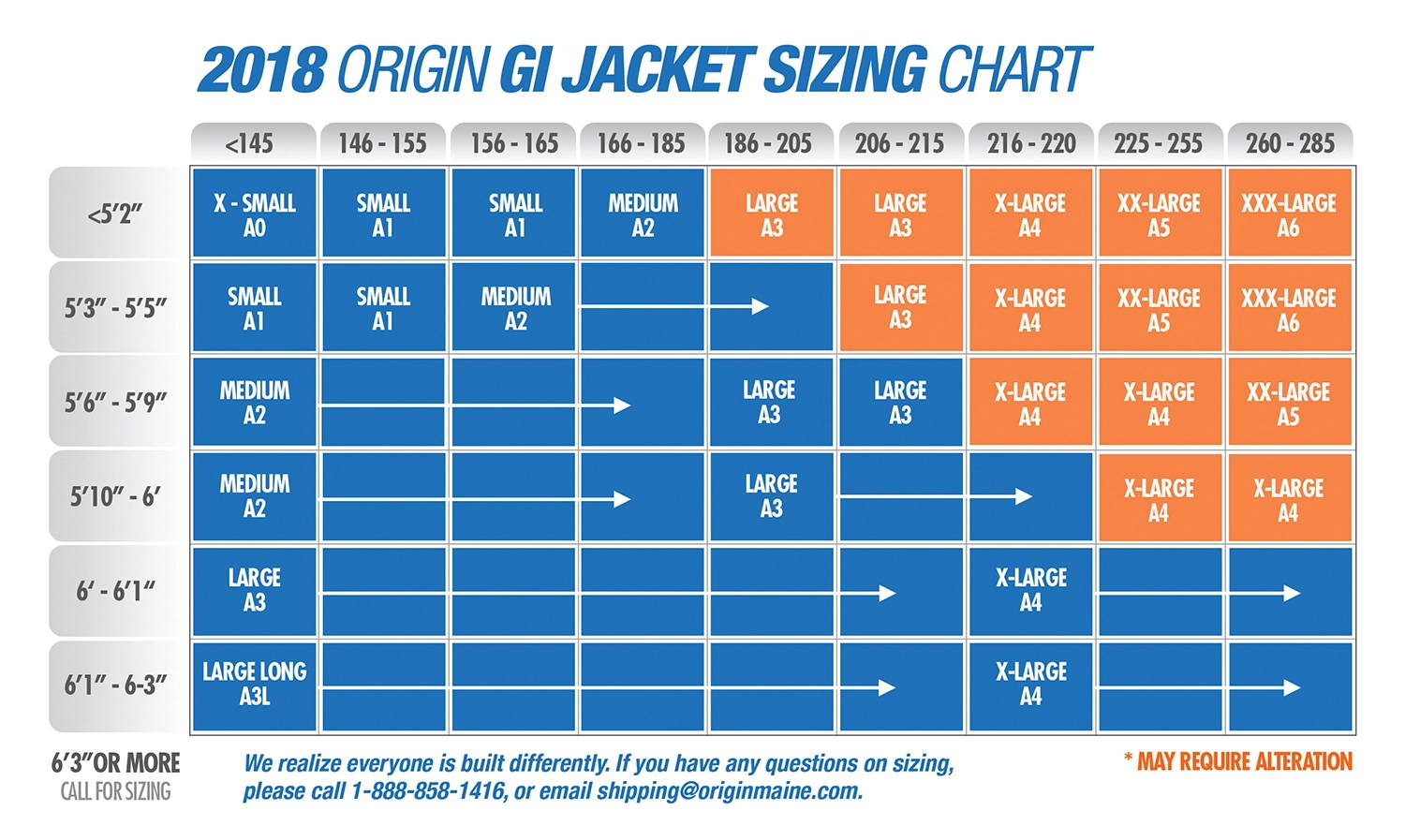 RIFT JACKET
The Rift Gi isn't just different; our sizing for this Gi has also changed. The Rift will fit different from Origin Gis of the past. We've based our patterns off of standard American sizing. Because these Gis are an out-of-the-box fit, there will be no shrinking of the product. Therefore, it is important to order your Rift Gi based off of your standard T-Shirt or Jacket size. These sizing guidelines should be used as a guide only, not an end-all.

For PRO PANTS, we recommend ordering the same size waist that you wear in jeans. For the inseam, we recommend ordering per the following guide:
Short 26" (up to 5'9")
Medium 28" (5'9"-6')
Long 30" (6'1" and over)
We offer a compression fit in both long and short sleeve as well as a comfort fit in our short-sleeve Rashguards. Depending on your height, the sleeves on our long- sleeve Rashguard may land a bit above your wrists, so size up if you want that full coverage to the wrist line. We have a comfort-fit vs compression-fit sizing graphic below that should help you decide which fit and size you prefer.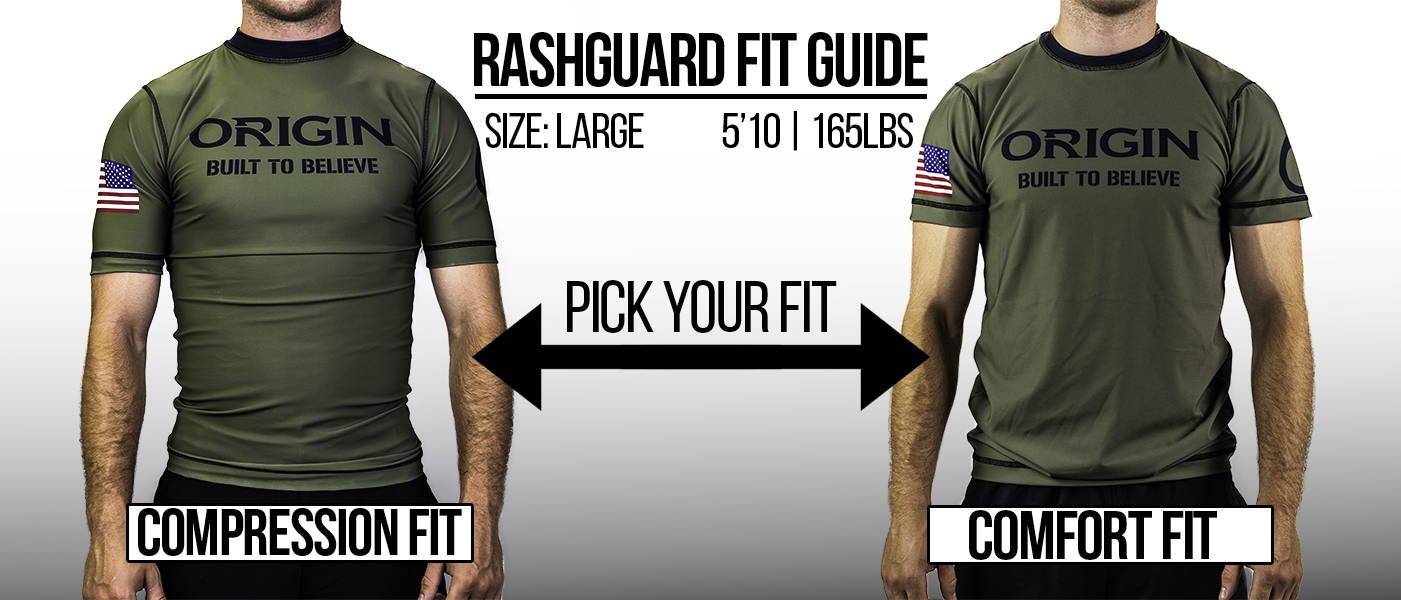 Compression Fit:
The fit for those who want the traditional, tighter feel. This is crafted to stay tucked in and map to your body.
NEW Comfort Fit:
This new cut is crafted to stay tucked in, but it gives you a more relaxed fit similar to a fitted athletic t-shirt VS the tight compression fit.
Product Questions & Gear Care
What is the best way for me to care for my Boots?
There are a couple of different boot dressings that you could use. Our tannery has used the Danner clear boot dressing with positive results; however, there are several different companies that sell very similar dressings just with their label, so we do not specifically recommend one brand over another.
5-Step cleaning/dressing directions
Use a damp towel to wipe any dirt off the boot.

Once there is no noticeable dirt on the leather, let them dry off.

Take a dry towel and clear boot dressing and apply a liberal coating to the entire boot. It is normal for the dressing to sit on the surface. You will probably want to repeat this step 1 or 2 times to make sure every area is covered. The leather will absorb it slowly.

Let them sit overnight so the boot dressing can work its way into the leather. You will typically want to let them sit for close to 12 hours. If you want to drive the boot dressing in quickly, you may apply heat from placcement near a stove or with a blow dryer, but it will immediately darken the boots. We do not necessarily recommend this unless that is the look you are aiming for.

In the morning, there should still be some of the dressing on the surface. You may wipe off the excess with a rag, and your boots should be good to go.
Note: The more regularly you do this, the darker the boots will get over time.
Feel free to reference the following video for further guidance:
Our boots are not entirely waterproof, but they are water-resistant. They're water-resistant up to the laces and tongue of the boot.
Yes, the soles are removable, making the boots resoleable. However, Origin does not currently offer this service.
Do the product colors match the images online?
We have made every effort to display products exactly as they will look when you receive them. The pictures may appear differently depending on the monitor that you view them on and /or the natural variations in organics such as leather. Every hide has variability in its coloration, which is part of the beauty and uniqueness of our boots.
How do I care for my Gear?
RIFT CARE:
The Rift is pre-shrunk and therefore shouldn't shrink up much if at all when washed in warm water and tumble dried. To avoid any possible shrinkage, we recommend washing in cold water and hang drying.
COMPS/DEFS
Your Origin gi is pre-shrunk and features an out-of-the-box fit. You can wash on cold and either line dry or dry on low heat.
WARRIOR/PRODIGY
Wash your gi in cold water and hang dry or machine dry on low.
COMPRESSION ITEMS:
Wash your rashguard, undergear, or spats in cold water and hang dry or machine dry on low.
JEANS:
Wash your jeans in cold water and hang dry or machine dry on low.
HEAVY OR KILO HOODIES:
Wash your hoodies in cold water and hang dry or machine dry on low. No bleach. No iron.
What are the differences between Gis?
If you're looking for a Gi to compete with IBJJF, we recommend our Nano Pearl Weave Gis. They have a rougher exterior to punish the hand of your opponent, but the interior is smooth and comfortable. These Gis have been approved for major competitions, including the IBJJF. Make sure you check with your instructor for Gi fitment before entering any competition. IF you are denied by an official, your judge has a grudge. The perfect choice if you need an option for both training and competing. Available in black and white and includes the Comp Gi, Path Gi, and DEF Gi.
What makes Origin Nano Pearl Weave™ special? This innovative weave is 10x stronger than the industry standard 100% cotton gi jacket, yet it's half the weight, coming in at only 13 OZ/440 GSM. It doesn't stretch when you're sweat-soaked in the heat of battle, and it performs consistently - roll after roll, day after day. This new textile also dries as you sweat, wicking moisture away from your body and drying in real-time while you roll so that as you heat up, it cools you down.
Our Warrior Line Gis are a great choice for those living or training in hot/humid climates or dojos. They are extremely lightweight, quick-drying, and compact, which makes them ideal for travel. Currently, we offer these in white (Everest), black (Apache), and royal blue (Honor).
Please note that we have limited sizes and quantities of the gray (Gun-Metal), Abyss (navy blue), and olive green (S.I.) as these colors/models are being discontinued and will soon be removed from our website.
Check out all of our gis by clicking on the following link or copying/pasting it into your browser: https://originmaine.com/bjj-mma-fit/bjj-gis/
We have created a Swiveloc Belt system that allows for the pants to be cinched tight around the waist. The belt does not come undone as you are rolling like classic rope belts. You put the belt on, clip it, cinch it, and roll, never having to adjust until you're done training.
What is the difference between Delta and Factory Denim Jeans?
Factory and Delta jeans are actually the same patterns; however, the lighter, more flexible textile of the Delta's makes them a bit more of a slim fit.
The Deltas have 20% more stretch and feel like a base layer even though they are an outer layer. Our Delta denim is an 8 oz textile vs factory jeans which are 12 oz.
What is the difference between Legit Fit and Fighter Fit?
Legit Fit is a straight fit. Fighter fit is tapered from the knee to the bottom hem.
Returns, Repairs, Restocking and Exchanges
At Origin, we hope you love your gear and wear it out. However, if you are not satisfied with your purchase, you may return it to us for a refund to your original form of payment or a refund as store credit. Items will not be accepted for return or exchange if they have been customized, worn, washed, or used. Please use THIS LINK to request a return. Simply fill the form out with your order number, email, and request.
EXCEPTION:  Please note that undergear and spats are final sale items and may not be returned once tried on.
If you need to get a return started and placed your order within the last 30 days, you can use THIS LINK to fill out our return form and get the process started. Scanning the QR code on the back of your invoice will also bring you to this link.
If your return is outside the 30-day return window, no worries. We have a very flexible return/exchange policy, which states that as long as an item is unwashed/unused, you may return it to our factory in exchange for another size or model OR for a refund.
Just ship the unworn/unused item(s) back to our factory with a note stating your order number and request. We'll proceed accordingly. Please reach out to our Customer Experience team to confirm which address to ship to.
Exchange for a Different Size or Product
We have a very flexible exchange policy, which states that as long as an item is unwashed/unused, you may return it to our factory in exchange for another size.
Just ship the unworn/unused item(s) back to our factory with a note stating your order number and request. We'll proceed accordingly. 
If your order was placed within the last 30 days, you may also generate a paid return label via our website at the following link: https://originusa.returnlogic.com/
Scanning the QR code on the back of your invoice will also bring you to this link.
What Are My Options For Refunding My Order?
STORE CREDIT REFUND
One-hundred percent of the value of all returned products are issued in the form of a store credit to your Origin customer account. There's no rush using your credit as it has no expiration and can be used towards any future Origin purchases.
If you do not have an account, no worries. An account will be created for you.
REFUND TO MY ORIGINAL FORM OF PAYMENT
This refund is issued to your card or other payment method that was used to purchase the item(s).
Does Origin Offer Repairs?
WE HOPE YOU WEAR IT OUT. WE PROMISE IT WILL NEVER FAIL YOU.
We stand behind our products 100% and offer a lifetime warranty towards any manufacturing defects. Please send photos of any manufacturing defects/quality concerns to our Customer Experience team for assessment. You can begin your repair request at THIS LINK. We can also be reached via email at shipping@originmaine.com.
The status "Awaiting Fulfillment" means that payment has been accepted and your order is currently in production. You will receive an email with tracking information as soon as your shipping label is generated.
How long does it take to process my order?
Order processing will vary depending on the products purchased. Fulfillment times are listed on the specific product pages (see image below).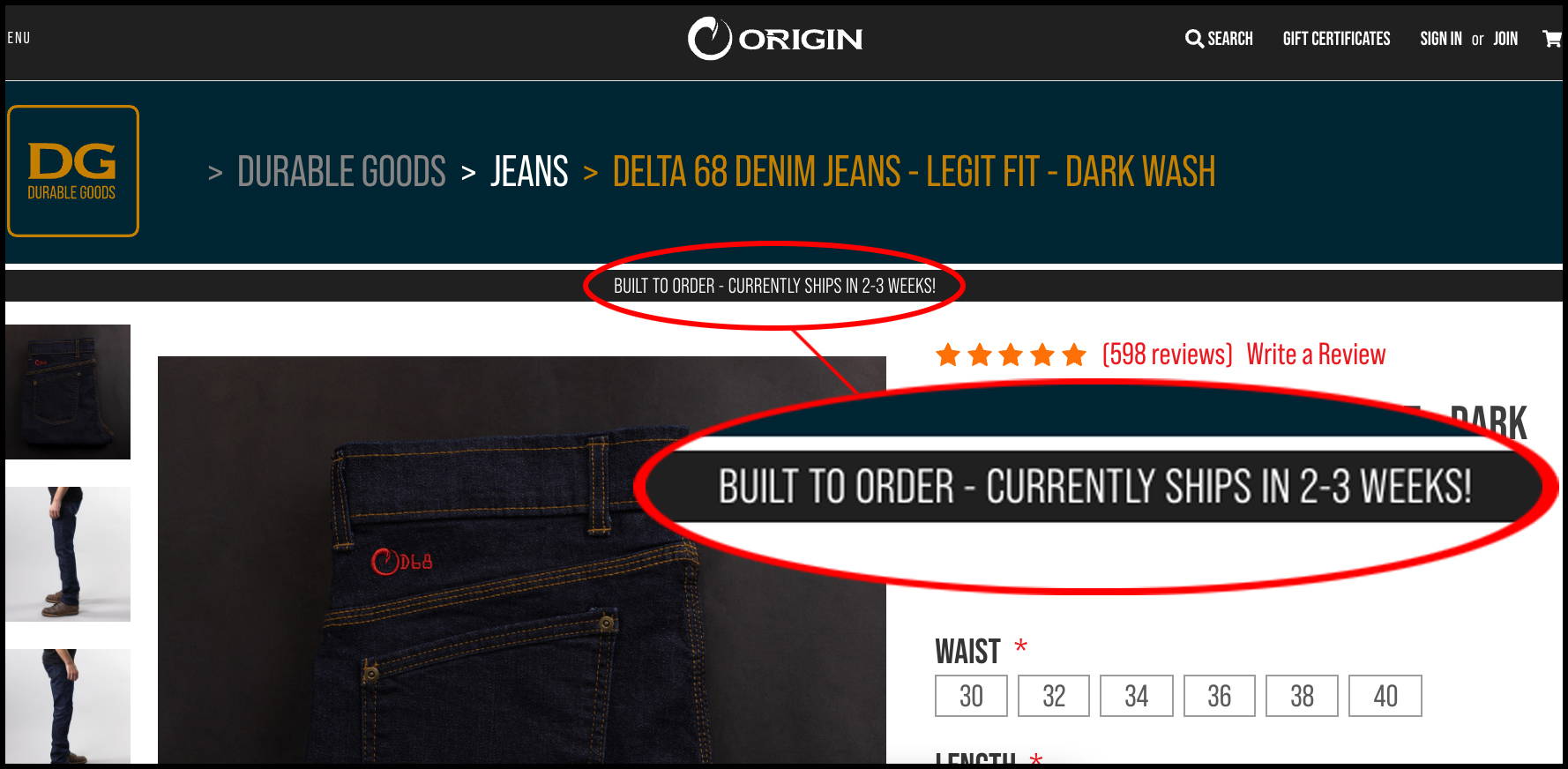 Most shipments take 7-10 business days depending on seasonality and promotions.
Yes, we can change items in an order as long as the order has not been fulfilled. Please know this potentially will affect fulfillment times. We can be reached via email at shipping@originmaine.com or over the phone at 1-207-305-3222 during our business hours of 9AM-5PM EST Monday-Friday.
Payment Options / Bolt Checkout
Can I use multiple forms of payment (ie. Visa Giftcards or similar?)
Our system does not currently have the capacity to accept multiple payment forms through our general checkout process. However, we would be happy to put in this order manually for you over the phone. Please give us a call between our business hours of 9AM-5PM EST Monday-Friday at 1-207-305-3222. We will be happy to assist.
Payment Rejected by Bolt?
If your credit or debit card payment was recently rejected/declined, you should receive an email from Bolt (our payment processor) in regards to confirming your account and getting this payment approved.
Feel free to reach out to support@bolt.com if you are having trouble approving a recently rejected payment.
Where can I apply a discount code to my order?
Select the "Checkout" option from your cart, then click "discount" on the checkout screen and enter your code. See screenshots below for reference.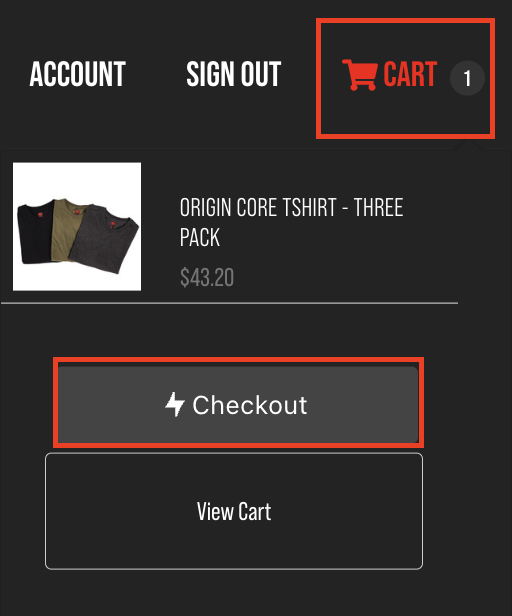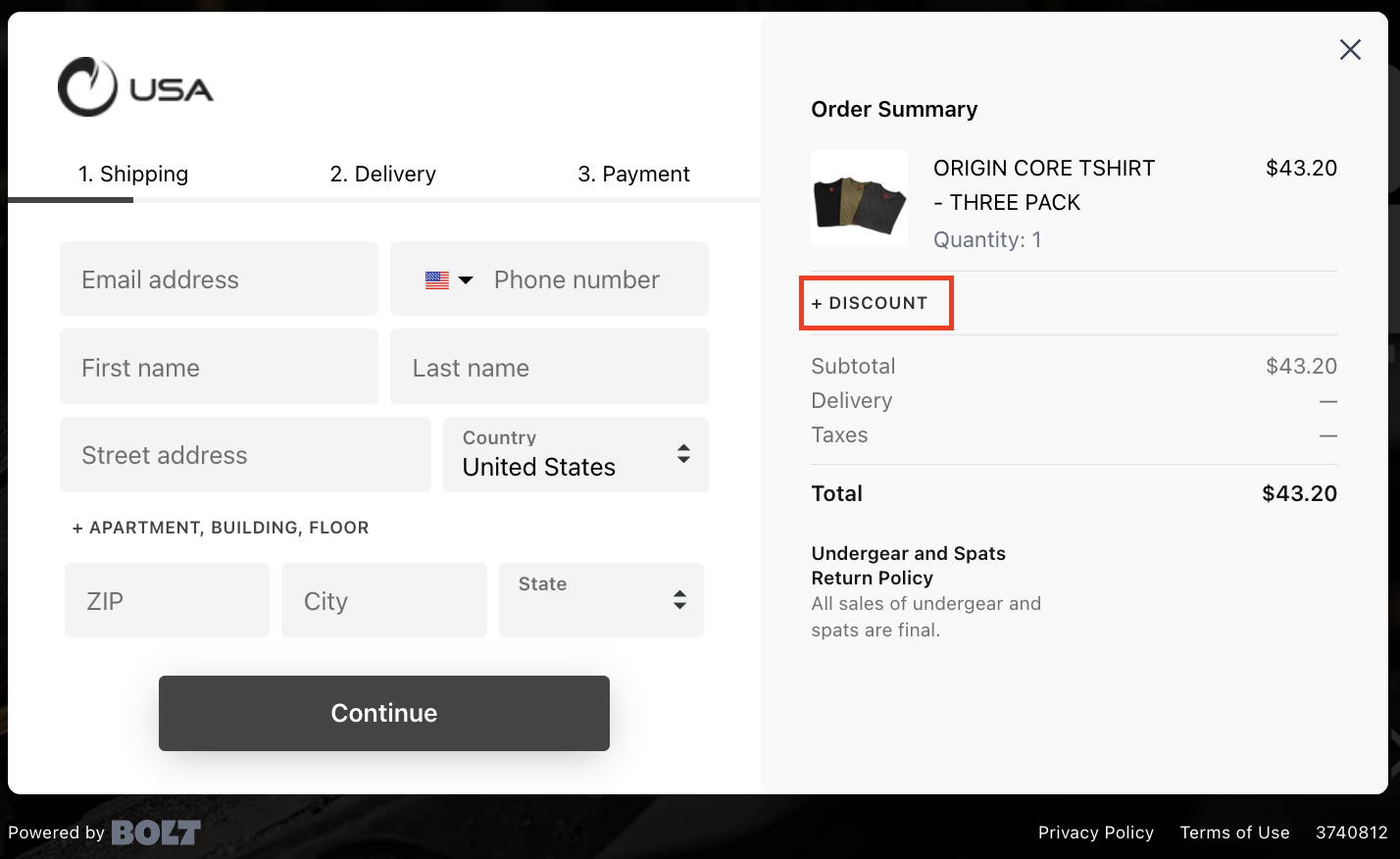 Origin offers flat-rate shipping costs per zone, excluding international locations.

Zone 1 (TX and East)

1 item: $9.00

2 item: $11.00

3+ item: $13.00

Zone 2 (CO and West)

1 item: $12.00

2 item: $14.00

3+ item: $16.00

Zone 3 (HI & AK)

1 item: $24.00

2 item: $28.00

3+ item: $32.00
Origin will not be shipping on the following dates in 2023. Please note shipping estimates will begin the following business day.
New Year's Day

Memorial Day

Independence Day

Labor Day

Veteran's Day

Thanksgiving Day

Christmas Eve

Christmas Day
Will I Receive a Notification or Tracking Number When My Order Ships?
Yes, you will receive an email with tracking information as soon as your shipping label is generated.
Customs fees/duties are not included in the cost of the product or shipping. These fees vary item to item and country to country and are paid for by the customer. Shipping rates are calculated based on the delivery location, weight, and size of the parcel.
Can I offer Origin products at my Jiu Jitsu Academy?
Yes, for details on how to become a wholesaler, email sales@originmfg.com with the subject line "Becoming an Origin Wholesaler."
Discounts for those who serve
Do you offer discounts for military, LEO, and first responders
Yes, we do. Please use the code MILITARY for 10% of all future Origin Purchases.
THANK YOU FOR YOUR SERVICE.
Ambassador and Affiliate Programs
Does Origin Have a Store I can Visit?
Our Factory Outlet Store is located in Farmington, Maine. We would love for you to come and visit us!
Here is the address:
Origin Factory Store
248 Broadway
Farmington, ME 04938
What do I need to know about your annual Immersion Camp?
What if the product I want is out of stock?
The best way to stay informed is to select your item on our website, enter your email in the space provided, and click the "notify me" button below it. You will receive an email when the item you selected is back in stock. We appreciate your interest. As we are making all of our products in America by hand, we are working to satisfy demand, and we appreciate your patience and support.
Call Us At: 1-207-305-3222
Email: shipping@originmaine.com